A Complete Educational
Software
Get a glimpse of how our world-class education software can totally transform the way you manage your school & college.

A winning combination of a world-class education software and an immersive learning management system
Get a 360-degree view of your entire institution administration from a single dashboard. Remove every trace of inefficiency and oversight. Provide immersive, world-class education with digitization. Managing a school/college was never easier and more efficient. The best of both worlds. On a top of it, we provide free iOS and Android app for your institution. The salient features of our ERP and LMS are:
Automate Processes
Eliminate manual processing of various administrative tasks to their core. Let our software handle repetitive-but-critical tasks.
Take Pain Out of Assessments
Schedule periodic, semester-wise and annual assessments and exams using the drag-and-drop feature of our software. Changes immediately reflected across the spectrum, whether a single institution or a group of institution.
Better Time Management
Create timetables on-the-fly. Assign teachers to classes seamlessly. Easily alter your schedules without overlapping.
Automate Fee Payment
Trickle fee reminders automatically at set dates. Allow parents to pay a fee for their wards on your website or from their mobile phones without having to stand in long queues. Eliminate paperwork and front desk rush hours.
No Communication Gaps
Send out circulars to parents, teachers and students manually as well as automatically using multiple channels and preferred formats.
Multiple Campuses from a Single Dashboard
Seamlessly manage multiple institutes from a single dashboard. Totally secure, centralized database. Intuitive interface. Access individual school/college administrative tasks within a few clicks.
Students Management
Report Generation
Messaging
Leave Management
Instant Exam Results
News
Circulars & Fee Management
Live Bus Location Tracking
Attendance
Multiple Campus Management
Image Galleries
Exam Schedule Management
Multilingual
Classes and Sections Management
Teachers App
Polls
Events Management
Teachers Management
Parents App
Live Video Streaming
TimeTable Management
Real Time Update to Parents
Efficiently Maintain Academic Progress
Monitor individual student at micro-level right down to chapter-wise assessment. Recognize weaker areas and automatically put more stress on them.
Digital Whiteboard
Give an immersive, audio-visual experience to your students and allow your teachers to impart education rather than deal with the nitty-gritty of managing notes and syllabus.
Digital Courseware
Reduce the burden of schoolbags by digitising your courseware and beaming course materials to students' tablets as and when needed. The most efficient way of managing courseware.
Keep the Parents Informed
Timely communication with parents can nip many problems in the bud. Send them daily updates on the progress of the students. Draw feedback in real time. Active involvement. Collective growth.
Bid Farewell to Attendance Blues
The LMS allows automatic attendance through GPS features. No need to manually take attendance every morning. Generate attendance reports automatically.
Encourage Social Learning
Our LMS allows students and teachers to create digital groups where they can brainstorm on various topics and subjects and learn in a social environment, making group learning fun and conducive.
Digital Whiteboard
Interactive Learning Experience
School Timetable and scheduling
Android App Interface for Students
Interactive Learning Experience
One Click Attendance Management
Windows App for Laptops
Assignments, Homeworks, Performance Tracking
Real Time Assessment & Result Publishing
Customised Tablets for Students*
Broadcast Academic Books
Digital Curriculum Management
Get to know more about the power of our education ERP system and LMS
The video below quickly explains to you how our ERP system eliminates errors and oversights and helps you manage your entire school/college administration from a single command center. The video also shows the positive impact that our learning management software can have on your students and teachers.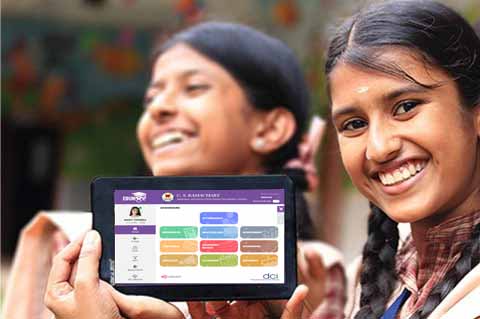 Going digital is the best way to deliver speedy and efficient education just the way your students want
Digitise your entire curriculum using our education software that uses a combination of interactive technology, digital blackboard (or whiteboard) and  tablets (optional) and audio-visual immersive experience to give your students and teachers the best possible learning environment.
Our LMS allows you to store your digital courseware at a centralized location and then broadcast it to individual tablets that are given to your students. Your teachers can conduct real-time assessments and obtain performance reports immediately.
Manage your entire courseware of different subjects, student performance reports, timetables and multimedia tutorials using a centralized dashboard. Individual dashboards can be created for teachers. Students can create online groups for social learning and knowledge sharing. Connect students and teachers so that the students can seek guidance even outside of the class. Parents can have immediate access to their ward's performance reports. No need for students to carry heavy bags. Just a tablet does the job.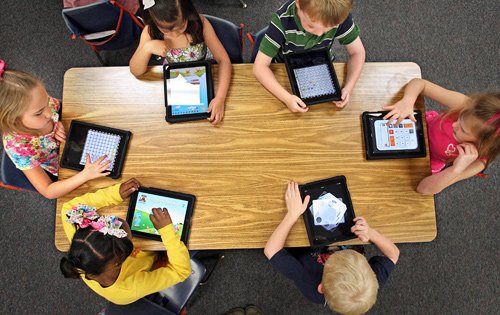 From bird's-eye-view to the minutest detail of your school/college administration, control everything from a single dashboard
We are certain that you have a system for managing your institution administration, students, scheduling and resources. But is that system efficient? Does it give you the ability to manage everything that happens in your institution from a single dashboard, in a secure manner and best, 100% automation of repetitive tasks?
Managing safety and security of students and staff are a priority. Equally important are timetable management, periodic assessments, fee management, communication among students, transportation, security, building infrastructure, teachers, administrators and parents, and efficient utilisation of school/college resources.
Just imagine trying to find a student record that was created 15 years ago or generating reports on the performance of individual students throughout different academic years using hundreds of registers that you may have stored in the storeroom. Compared to that, this valuable-but-difficult-to-find information is available to you through our ERP system with just a few clicks.
It's complete digitisation of your institution administration processes. No communication gaps. Hundreds of thousands of interconnected records. Retrieve seemingly the most remote information in a few seconds. Drastically reduce your dependence on other administrative staff.
Our ERP system reduces every administrative task to your dashboard. Individual dashboards for various members according to their access levels can be created. Manage your entire school/college from your PC/laptop or your mobile phone. A total cloud-based interface.
Why EduKool
Course management for single as well as group of institutions from a centralized dashboard
Complete digitisation of courseware that can be broadcast from teachers to students in seconds
Teachers can take immediate assessments after every session
Student performance reports available within a few clicks
Easy access to parents
Courseware easily available to students according to their access level
Any time remote teaching through Internet connectivity
Digital exams with immediate results.
Minimize paperwork
Manage single institution or multiple institutions from a single dashboard
Keep your school safe and secure through centralized monitoring
Use school/college resources efficiently
Communicate with all stakeholders using multiple channels and multiple formats
The entire gamut of administrative and information at your fingertips
What Customers Say About Us
Don't take our word for it, listen to our customers' voice. They talk from their heart
"The LMS from DCI has become a big attraction among the faculty as well as our students. Our parents really appreciate the fact that their wards no longer have to carry heavy bags to school since all the course material can be accessed through their tablets."
Maran, CSR School - Principal
"Initially we were skeptical about this totally new technology but then the helpful people from EduKool opened our eyes to this amazing new world of multimedia education. Once we became comfortable with the interface, we quickly digitized all our course materials and assessment features and since then, we have not looked back."
Vasanthi, Sitalakshmi School - Manager
Contact us for more information
Are you intrigued about our cutting-edge ELP and LMS solutions for schools and educational institutes? We would be glad to provide you more information. Submit the form given below and you will hear from us very soon.